Welcome to rocusfocus




Rock shots of 6 decades – from 1967 until today


The well-known photographer Carl van der Walle has opened his archive to the public: portraits, artistic moments and documental treasures of 6 decades of rock musicians captured in pictures.

His collection comprises more than 5.000 pictures, and we start with a selection of rock legends, including portraits of The Rolling Stones, The Who, Jimi Hendrix or Pink Floyd plus background information and anecdotes from an eventful life as a photographer, and more ... Moreover, feel free to ask for bands and musicians who have not been filed in our data repository yet; contact: vanderwalle@rocusfocus.com
Please, also note the website "Help" where you will get information and support with regard to the shop, purchasing system, kits and availabilities.

Why rocusfocus? We are often asked about the meaning of the name. To be honest, it doesn't mean anything ... It's simply a chain of associations, based on the name of the Dutch progressive rock band "Focus", and then "hocus pocus", which was a huge hit of this band ... with this in mind:

Enjoy browsing!



01. February 2023
Rock Legends - Carl van der Walle
Exhibition from 10.09. to 19.11.2022 - market hall on the Aurich market square and in the fashion house Silomon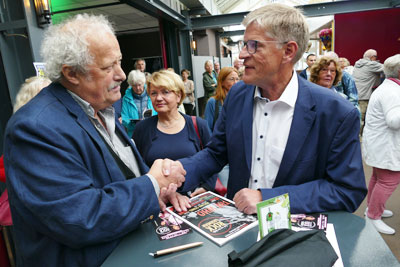 Carl van der Walle in conversation with patron Mayor Horst Feddermann


For the first time, photographer Carl van der Walle, who was born in Aurich, showed a selection of his best pictures in his home town. Historical recordings of concerts and festivals from 1967 to today. Jimi Hendrix, Rolling Stones, David Bowie, Jethro Tull, Rod Stewart, Pink Floyd, Genesis - He experienced these and many other rock legends up close and captured them on camera.

A 72-page catalogue was published for the exhibition. Available on request from Werner Jürgens: wernerjuergens@yahoo.de

The exhibition was organized by the Kunstverein Aurich in cooperation with the city of Aurich and the Silomon fashion house. The patron of the exhibition was Mayor Horst Feddermann. The design concept came from Nicolaus Hippen from the Auricher Kunstverein. We would like to thank all participants and supporters for this successful exhibition.

KUNSTVEREIN AURICH e.V. • Am Ellernfeld 8, 26603 Aurich
Opening times: Fr - So 15 -18 Uhr
kontakt@kunstverein-aurich.de • www.kunstverein-aurich.de




01. January 2021



Cheers! Prost! Skål!




Turn of the year 2020/21 - Call for a better 2021!


For all fans, bands and also photographers - we wish a better new year, where again concerts, culture and music enrich our lives.

And what could fit better than a photo of the likeable, authentic Swedish blues rock band Blues Pills (re) from Örebro.
The photo was taken at the presentation of the new album "Holy Moly" at the Pit Stop in Cologne on 21.08.20. I really enjoyed the appointment and I can say, you can't take a photo like this with every band.

By the way, we have also chosen Blues Pills singer Elin Larsson for our small photo series No. 5 on the subject of "Cheers". Have a look, also the other photo series are worth seeing in our opinion.

Carl van der Walle, in January 2021




04. Juni 2020
Goodbye to a friend
On the death of Phil May (Pretty Things)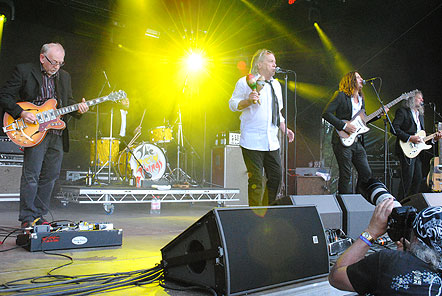 This photo with the complete band Pretty Things was taken on 01.08.2015 at the Burg-Herzberg-Festival.

Music: "The Same Sun"
From the last studio album "The Sweet Pretty Things (Are in Bed Now, of Course)". It is the outstanding song of the album, not only on this festival indispensable part of the repertoire.




On May 15th the music world tragically lost another of its great protagonists, who together with his THE PRETTY THINGS had a decisive influence on the scene of the 60s.

Phil May, who had played a grandiose farewell concert in London in December 2018 together with his band colleagues and guests like David Gilmour and Van Morrison, had to undergo hip surgery after a bicycle accident. The complications that followed were the cause of his death a few days later.

I myself was allowed to accompany the band as a photographer for almost two decades and thus also had the opportunity to get to know the individual members from their private side.

I can look back on many wonderful encounters and great concert experiences, even now and then in England. Dealing with them was always uncomplicated, star airs and graces were foreign to them despite their legendary status. My photographic activities were always supported by them. Phil May, for example, had to "summon" one or the other colleague to a band photo when he wanted to take care of his equipment after a concert.

Carl van der Walle, in June 2020




These photos (above and right) were taken in 2010 during the German tour at the "Piano Music Theatre".



Music: "Midnight To Six Man" - A piece of music from the early days of the band, one of Phil May's absolute favourite songs.
Warnung: Dieser Browser unterstützt den HTML5 Audio Tag nicht.
Music: "Rainin' in My Heart" (left side)
The Slim Harpo song from 1965 is included on the album "Get the Picture?" The song is one of my favorite pieces from the early days of the band. When I told Phil May last year in Brussels that I had never heard the song live in almost 20 years, he sang it to me backstage without accompaniment - a moving moment.

The photo of the concert at the Turock in Essen (11.11.2015) shows a very typical pose for Phil May.

Music: "Dream / Joey"
The song from 1974 is from the album "Silk Torpedo". The album has strong glam rock influences and forms a contrast to their early R and B - and psychedelic years. Significantly, Dick Taylor and also bassist Wally Waller were not in the band at that time.
The musicians of Led Zeppelin revered the Pretty Things as pioneers of Hard Rock and signed them to their company Swan Song Records. "Silk Torpedo" was the very first production for the new label.
Warnung: Dieser Browser unterstützt den HTML5 Audio Tag nicht.


The photo was taken on 21.09.2018 during the Farewell-Tour at the Musiktheater Piano in Dortmund. It shows Phil together with the second founding member, his congenial partner Dick Taylor.

Music: "S.F. Sorrow is Born"
The song is included on the 1968 rock opera "S.F. Sorrow". This psychedelic work is considered the band's masterpiece, although it was only moderately successful commercially and was not performed in its entirety until 1998. It is also said to have served Pete Townshend as inspiration for the composition of the rock opera "Tommy". This song is also an absolute favourite of Phil May. Warnung: Dieser Browser unterstützt den HTML5 Audio Tag nicht.

25. November 2019
Club of the Dead Rockstars - Exhibition
Photo exhibition 26.10. - 08.12.2019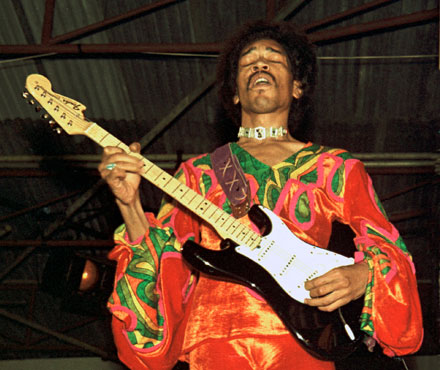 Jimi Hendrix (Photo: Carl van der Walle). A detail of a photo, taken during the Isle of Wight festival on 30.08.1970 (available here in the shop database).



On 26.10.1019 a really special exhibition about the deceased heroes of rock history started with the somewhat casually lyrics of the title "Club of the Dead Rockstars".

The exhibiting photographers were Carl van der Walle, Hartmut Hennig and Gerd Coordes, who are well known in the scene.

Organizer was Volker Rebell and he invited to the Rebell(i)sche Studiobühne & Galerie, Biebererstraße 145A, Offenbach am Main, 63071 Deutschland.

Further information and also short portraits of the exhibiting photographers can be found on the website of Rebell(i)sche Studiobühne & Galerie.

At the opening of the exhibition there was a - of course sold out in a flash - wonderful Konzert and because of the great demand an additional concert on 27.10.

Here are some impressions from the vernissage.





Carl van der Walle beside his pictures of Richard Wright, Keith Emerson and Ray Manzarek (Riders on the Storm)
(Photo: Gerd Coordes)



from left: Volker Rebell (organizer and former HR3 presenter), the three exhibiting photographers Hartmut Hennig, Carl van der Walle and Gerd Coordes (Photo: Gerd Coordes)

| | |
| --- | --- |
| Jessica Born (Photo: Carl van der Walle) | Volker Rebell (Photo: Carl van der Walle) |

22. September 2017
Anniversary promotion: -20% on finished framed pictures
50 years Carl van der Walle rock photography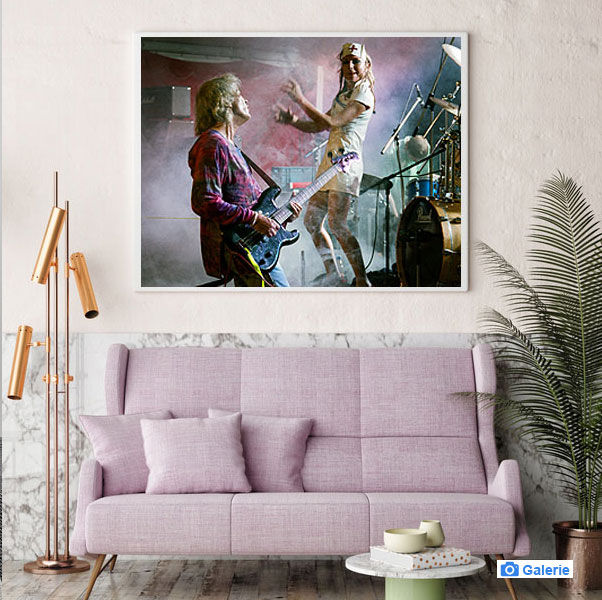 Space Ritual, Burg-Herzberg-Festival 2005,
Dave Anderson (l, Ex-Hawkwind) u. "Tänzerin"
z.B. DIN A3 :

250,- EUR

>>

jetzt 200,- EUR




(inkl. Foto + Acryl-Träger + Aufhängung + Versand)

Carl van der Walle celebrates 50 years of active life as a rock photographer. For this occasion we offer ready framed pictures - on acrylic carrier, incl. hanging and shipping (within Germany)!

As an "aid to the imagination", here are a few examples of how the photographs might look in a living room environment. You are also welcome to use the gallery function provided here, which presents the photo alone in addition to the "living room motif".

Further information on framing or carrier systems can also be found on the "Help" page.

By the way, some motif series are also very suitable for joint presentation. For this purpose, we are gradually building up suggestions on the page "Photo series".

Have fun and good ideas! And as always, of course: Any question, request or suggestion is always welcome!

Sincerely yours,
Your Carl van der Walle, in September 2017






Lola Marsh, Burg-Herzberg-Festival 2016,
Yael Shoshana Cohen
z.B. DIN A3 :

250,- EUR

>>

jetzt 200,- EUR




(inkl. Foto + Acryl-Träger + Aufhängung + Versand)






Asaf Avidan and the Mojos, Europa-Tournee,
Hadas Kleinman (cello)
z.B. DIN A3 :

250,- EUR

>>

jetzt 200,- EUR




(inkl. Foto + Acryl-Träger + Aufhängung + Versand)


Wir können Ihnen Fotos zu diesen Bands anbieten:
Abacus, Aerosmith, Agitation Free, Allman Betts Band, Miller Anderson, Anekdoten, Carmine Appice, Archive, Argent, Gwyn Ashton Band, Tony Ashton, Audience, Brian Auger and the Oblivion Express, Australian Pink Floyd Show, Asaf Avidan and the Mojos , Joan Baez, Kofi Baker's Cream Experience, Martin Barre Band, The Beattells, Jeff Beck, Dicky Betts and the Great Southern, Big Brother and the Holding Company, Brant Björk and the Bros, Blackfield, Black Widow, Blues Band, Blues Pills, Joe Bonamassa, David Bowie, La Brass Banda, The Brew, Edgar Broughton Band, Arthur Brown, Bröselmaschine, Eric Burdon and the New Animals, Cactus, Can (Damo Suzuki), Canned Heat, Caravan, Casbah Club, Roger Chapman and the Shortlist, Charlatans, Chicago, Chicken Shack, Clem Clempson, Colosseum, Tom Constanten, Alice Cooper, Robert Cray, The Creation, Crippled Black Phoenix, Crosby and Nash, Crosby, Stills and Nash, The Cult, Dave Davies, Spencer Davis Group, DeWolff, Donovan, The Doors Of The 21st Century, Doro, Bob Dylan, The Easybeats, Element Of Crime, Eloy, Embryo, Emerson Lake and Palmer, Epitaph, Europe, Fairport Convention, Marianne Faithful, Family, Farfarello, Chris Farlowe, Fiddler's Green, Flo and Eddy, Flower Kings, Focus, Guy Forsythe, Franz K., Free, Henrik Freischlader Band, Frontmen, Frumpy, Peter Gabriel, Rory Gallagher, Genesis, Golden Earring, Gov't Mule, J J Grey and Mofro, van der Graaf Generator, Grobschnitt, Gong, Guru Guru, Buddy Guy, Steve Hackett, Hamburg Blues Band, Peter Hammill, Hardin and York, Steve Harley and Cockney Rebel, Beth Hart, Keef Hartley, Hatfield and the North, Hawkwind, Jimi Hendrix, Ken Hensley, Rich Hopkins and Luminarios, Hundred Seventy Split, Marsha Hunt, Iamthemorning, Ian Hunter, Ihre Kinder, IQ, Chris Jagger and Charlie Hart, Jane, Jefferson Starship, Jethro Tull, Casey Jones, Journey, Kadavar, John Kay and Steppenwolf, Mike Keneally, Nigel Kennedy, B.B. King, King King, Alexis Korner und Peter Thorup, Robbie Krieger, Kula Shaker, Femi Kuti and the Positive Force, Lake, Arthur Lee with Love, Levellers, Udo Lindenberg und Panikorchester, Livin' Blues, The Lizards, Lola Marsh, Jon Lord, The Lords, Louisiana Red, Love, Machine Head, Magnum, Kawabata Makoto (Acid Mother's Temple), Manfred Mann's Earthband, Marillion, Krissy Matthews, Paul McCartney's Wings, Roger Mc Guinn, Midnight Oil, Monsters of Liedermaching, Moody Blues, Keith Moon, Mostly Autum, Mother's Finest, Motörhead, Motorpsycho, Mungo Jerry, Musical Box, My Baby, Mythos, Graham Nash, Nazareth, New Adventures, New Model Army, The Nice, Nick Mason's Saucerful Of Secrets, The Nits, Mike Oldfield, Florian Opahle, Ougenweide, Paatos, Carl Palmer and Band, Pavlov's Dog, Pentangle, Pink Floyd, Robert Plant and the Strange Sensation, Popa Chubby, Ana Popovic Band, Porcupine Tree, Billy Preston, The Pretty Things, Procol Harum, Pure Reason Revolution, The Rattles, Achim Reichel, Sven Regener, Klaus Renft Combo, Rhun, Riders On The Storm (The Doors), Riverside, The Rivets, The Rolling Stones, Uli Jon Roth, Steve Rothery Band, Royal Southern Brotherhood, Inga Rumpf, Calvin Russell , Carlos Santana, Saxon, Helge Schneider und Pete York, Seals and Crofts, Simo, Patti Smith, Soft Machine, Space Ritual, Spooky Tooth, Starsailor, Steffi Stephan, Steppenwolf, Rod Stewart and Faces, Strassenjungs, Sylvan, Nad Sylvan, Taste, Mick Taylor, Ten Years After, Peter Thorup, Torfrock, Pat Travers, The Trees, Walter Trout, Derek Trucks Band, UFO, Uriah Heep, Ad Vanderveen, Vanilla Fudge, Ryley Walker, The Wailers, The Waterboys, Stan Webb, Tony Joe White, Geoff Whitehorn, The Who, The Wholigans, Wicked Minds, Götz Widmann, Wishbone Ash, Zal Yanovsky, The Yardbirds, Yes, Pete York, Neil Young,